"Should I start a podcast?" is a question I get asked quite frequently as a content creator and brand strategist.
And my answer to that question varies depending on the person/brand asking.
Over the past few years, podcasts have been making a wild comeback. Between the nostalgia of radio, the love of good storytelling and the share of knowledge that's out there, 62 million Americans listen to podcasts on a weekly basis. And in the eyes of a marketer and/or business person, that's a massive audience and group to market to.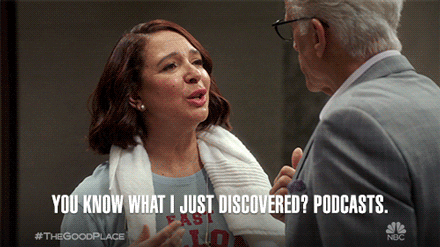 But while tempting to want to start a podcast just because you have the potential to reach 62 million or more people– podcasts aren't right for every brand or everyone.
As a professional podcast producer, and someone in the process of creating my own podcast (more details coming soon!), I've seen podcasts both become successful and wildly flop.
The one's that flop have a few common qualities: unclear audiences, no regular schedule and difficult messages for an audio-only medium.
The one's that are successful also have a few common qualities: clear audiences, regular/defined schedules, solid messages for an audio-only medium and a solid promotional plan– among other things, of course.
So…should you really start a podcast? Before you start a podcast for your brand or business– investing time, energy and money in equipment, booking guests and creating a quality production– start by asking yourself these questions:
Who is your Audience?
Who are you trying to reach with your podcast and do you know for a fact that those people listen to podcasts and/or would listen to yours?
Podcasts are one of the most unique forms of media, as most people listen to podcasts in their personal spaces, like their homes or cars, so your podcast should provide a value worthy of being included in on your audience's personal space.
If you don't know who your audience is, and if you don't know for a fact that they'd welcome your podcast in on their personal moments and spaces, maybe a podcast isn't right for you or your brand.
If you know who your potential audience is– and I mean really have it locked down– and have done the research to know they'd listen to it, maybe starting a podcast is still in your future.

Why a Podcast?
Just because it seems that everyone is starting a podcast, doesn't mean that you should too.
While I know you have TONS of creative ideas for when it comes to content you want to create and stories you want to tell, as a content creator, brand strategist, multimedia marketer and storyteller, I can tell you with 1,000% confidence that there are so many other types of content that might be better suited for the story you're trying to tell other than a podcast.
Some stories require emotion or a connection that needs to be seen in order to have a full impact on an audience. Those stories would be better told through video or photo.
Some stories are a bit more complicated to understand or follow. Those stories might be better told through text like a blog, e-zine or e-book.
Some stories are shorter and/or have shorter lifespans making them better suited for social media content.
You see where I'm going with this. My point is, you should ask yourself why you're choosing an audio only medium to share the story/information you're trying to tell, and why that's the best way to share that story.
What makes your idea stand out?
With over 800,000 active podcasts (and growing) out in the universe today, you need to have a clear and honest understanding as to what will make your podcast stand out.
What value is your podcast providing– or what story is your podcast telling– that hasn't been shared yet?
The tricky thing with this question, is that there are a lot of elements that go into the answer: the message, guests, podcast duration, posting frequency, marketing efforts, music and more.
And while that seems pretty daunting to weed through, with a little help from an expert and dedication, you can breeze through all of it– pending you've already established and audience and reason for doing a podcast over any other form of media!
So now I ask you one final question: Are you ready to start working through your content strategy to see if a podcast is right for you? If so, reach out and let's get started!